Graphileon's graph-based proposal wins JenV Hub Challenge of Netherlands Ministry of Justice and Security
Today we proudly announce being awarded a contract to design and test a solution that facilitates the drawing of networks for the Dutch screening authority Justis.
Justis is responsible for providing information to all controlling and/or regulatory authorities (e.g. the police), in case the latter suspect legal entities to be involved in misconduct or fraud. This typically involves the drawing of networks that visualize relevant entities, like individuals and corporations, and, perhaps more important, the relationships between them. The JenV Hub Challenge consists of doing a proof of concept (designing and testing) a solution that facilitates and speeds up the process of creating the actual network drawings, but also enriching the data using OSINT and other sources.
The Graphileon approach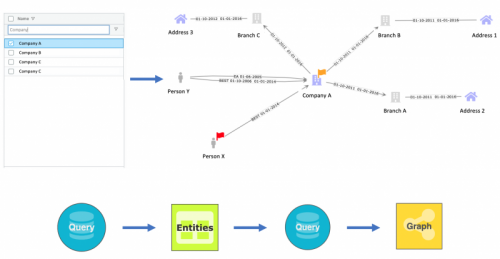 Our approach to the challenge is based on two graph tiers. One tier contains the graph database with the actual data (linked entities), allowing for easy discovery and network analysis. The second tier includes a graph database with the application logic, stored as functions that are connected by triggers. This approach allows for the rapid application development and visualization of the application logic using a minimum amount of custom code, using our Graphileon software. In addition, the graph structure of the application optimally supports the implementation of granular permission schemes to manage user access to functionality as well as data.
We are currently working on the development and testing of the user stories selected by Justis and the benefits of our technology appear promising. This approach will translate into improved and faster insight into legal entity networks, resulting in the prevention of misconduct and fraud in less time with lower effort.
---